Netflow یک پروتکل شبکه است که وظیفه آن استخراج اطلاعات مربوط به ترافیک شبکه است و به کمک آن می توان ترافیک و پهنای باند شبکه را آنالیز کرد. NetFlow این امکان را فراهم می سازد تا به آسانی از نحوه استفاده ترافیک شبکه آگاه شویم و بدانیم کدام کاربران و یا نرم افزار ها، چه نوع اطلاعاتی را در چه زمانی و با چه حجمی به چه مقاصدی ارسال و یا دریافت کرده اند. با آنالیز اطلاعات NetFlow یک متخصص شبکه می تواند الگوی استاندارد مصرف ترافیک شبکه خود را درک کند و در صورت بروز هر گونه ناهنجاری مانند افزایش مصرف ترافیک ، ارتباطات شبکه ای غیر معمول، فعالیت کرم ها و یا ویروس ها بلادرنگ از موضوع با خبر شود. به طور کلی پروتکل NetFlow راه حل های مفیدی را برای مشکلات معمولی که مدیران شبکه با آن روبرو می شوند را در اختیار قرار می دهد:
آنالیز تاثیر اپلیکیشن های جدید بر روی شبکه
شناسایی میزان استفاده اپلیکیشن های از ترافیک شبکه.
کاهش Peak ترافیک WAN
با استفاده از اطلاعات آماری NetFlow می توانید افرادی که بیشتری استفاده از خطوط WAN را دارند شناسایی کنید.
ایراد یابی و شناسایی گلوگاه های شبکه
به آسانی علت پایین آمدن سرعت شبکه را شناسایی کنید.
شناسایی تهدیدات امنیتی و نا هنجاری های شبکه
یکی از کاربردهای اصلی NetFlow نظارت بر امنیت شبکه و شناسایی ناهنجاری های احتمالی است.
اطمینان از پارامتر های QoS
پروتکل NetFlow به شما نشان می دهد که آیا پهنای باند کافی به هر یک از سرویس ها تخصیص داده شده است.
…
لینک دانلود
حجم: 25 مگابایت

دانلود nProbe 7.5.170507
رمز فایل: technet24.ir

nProbe 7.5.170507
Home Page – http://www.ntop.org
Document: nProbe User's Guide
https://www.youtube.com/watch?v=vdGLazUvSJI
In commercial environments, NetFlow is probably the de-facto standard for network traffic accounting. nProbe includes both a NetFlow v5/v9/IPFIX probe and collector that can be used to play with NetFlow flows. This means nProbe™ can be used: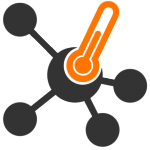 To collect and export NetFlow flows generated by border gateways/switches/routers or any other device that can export in NetFlow v5/v9
As a drop-in replacement of embedded, low-speed, NetFlow probes that may already been deployed
To analyze multi-Gbit networks at full speed with no (or very moderate) packet loss
To send monitored flows towards a collector such as the open-source ntopng or a commercial one (e.g. Cisco NetFlow Collector or Plixer)
Currently nProbe™ is a software application available stand-alone or as an embedded system named nBox .
Main nProbe™ Features
Available for Linux, Windows, and embedded environments ARM and MIPS/MIPSEL.
Layer-7 application visibility (250+ applications including Skype, BitTorrent and Citrix).
Layer-7 application propagation in exported flows to enable accurate accounting.
NetFlow v5/v9/IPFIX support for efficient flow handling.
Cisco NetFlow-Lite support.
Full IPFIX support: PEN (Private Enterprise Numbers) and Variable length encoding.
Complete support for IPv4 and IPv6.
Limited memory footprint (less that 2 MB of memory regardless of the network size) and CPU savvy.
Ability to natively export flows to Apache™ , Syslog, MySQL/MariaDB, Splunk (via TCP streaming).
Ability to natively export flows to Kafka and ElasticSearch (using the Export Plugin).
Ability to dump flows in format ready for import in columnar databases.
Native support for technologies PF_RING and the newest kernel-bypass PF_RING Zero Copy (ZC) for ultra-high speed packet capture.
Ability to act as flow collector and proxy. All combinations are supported.
Ability to collect sFlow flows and transparently translate them into NetFlow v5/v9/IPFIX.
Ability to forge NetFlow interface identificators based on MAC/IP addresses.
Collection of Cisco ASA flows and conversion into NetFlow v5/v9/IPFIX.
Multi-threaded architecture for the exploitation of multi-processor, multi-core elaboration systems.
Support of tunneled (including GRE, PPP and GTP) traffic and ability to export inner/outer envelope/packet information.
Support of both flow and packet sampling.
Support of Flexible Netflow for the creation of custom NetFlow templates, with optional PEN support.
VoIP (SIP and RTP) traffic analysis including voice quality and (pseudo-)MOS.
HTTP, MySQL/Oracle, DNS protocol analysis: ability to generate logs of web, MySQL/Oracle and DNS activities in addition to flow export.
BGP Plugin for establishing a BGP session with a router and generate flows with AS and AS path information.
Plugin architecture for easy extensibility via custom V9/IPFIX tags.
Fully interoperable with commercial collectors such as IsarFlow, Fluke, Cisco, Dartware, Arbor Networks, Plixer, NetFlow Auditor, SolarWinds Orion NTA, Andrisoft.
Designed for running on environments with limited resources (the nProbe™ binary < 100 Kb) and embedded systems (e.g. ARM- and MIPSEL-based appliances).
It can be used to build cheap NetFlow probes using commodity hardware.
Ability to save flows on disk for later analysis or integration into an existing monitoring application.
Fully user-configurable.
High-performance probe: commercial probes included those embedded on routers and switches are often not able to keep up with high-speeds.
Can be used in conjunction with ntopng to visualize and analyze monitored traffic.